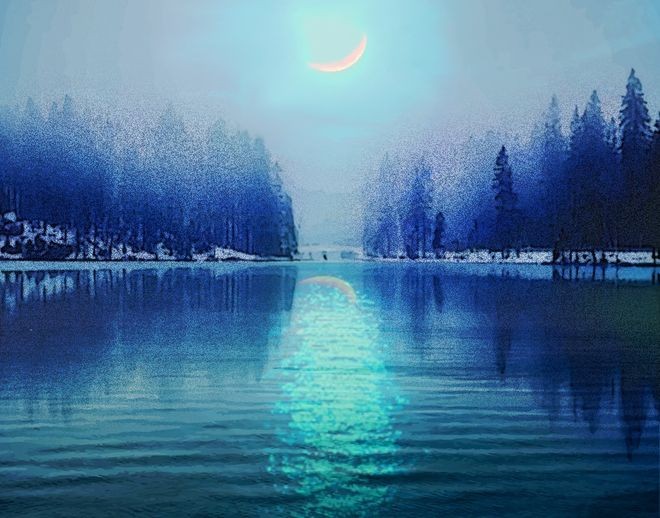 ASAHI HAIKUIST NETWORK / David McMurray
my three-faced lunar eclipse
–Pere Risteski (North Macedonia)
* * *
copper moon …
his shadow over them
as they face the light
–Sushama Kanpur (Pune, India)
* * *
lunar images –
from the cone flows
the shadow of the earth
–Minko Tanev (Bulgaria)
* * *
moon day
he puts on his mask
and enter the bank
–Ian Willey (Takamatsu, Kagawa Prefecture)
* * *
the new moon
gives a comfortable darkness …
finally in sleep
–Hidehito Yasui (Osaka)
* * *
the call of the muezzin
the dawn moon
in a sheet of clouds
–Adjei Agyei-Baah (Kumasi, Ghana)
* * *
sweltering night
the reflection of the moon has not risen
out of the river
–Serhiy Shpychenko (Kiev, Ukraine)
* * *
moon circle
attracts me to …
its shine
–Douglas J. Lanzo (Chevy Chase, Maryland)
* * *
darkness
behind the moon
my fear that she leaves
–Keith Evetts (Thames Ditton, UK)
* * *
longing for the outer edge
stored in my black box
for later
–Luciana Moretto (Treviso, Italy)
——————————
FROM THE NOTEBOOK
——————————
100th full moon
embarrassingly long
and chaotic life
–Masumi Orihara (Atsugi, Kanagawa Prefecture)
The haikuist's aunt celebrated a healthy and good-humored centenary, confessing to her niece that she felt "a little embarrassed to have lived so long." Satoru Kanematsu celebrated an auspicious rising full moon in Nagoya.
Seniors Day
mom in the picture
hundred
In Tokyo, Kiyoshi Fukuzawa misses hearing from his father. Agus Maulana Sunjaya suddenly realized that he had grown taller than his father in Tangerang, Indonesia.
Global warming–
I wonder when daddy enjoyed it
the most colorful leaves
* * *
my shadow
longer than the father
harvest moon eclipse
A cold full moon rises tomorrow; Michael Lindenhofer took advantage of this sublime moment last month in Linz, Austria: a lunar eclipse eclipsing the crickets.
Writing from Exeter, New Hampshire, our Thomas prepared for December 21, when the sun will reach the tropic of Capricorn and create this year's shortest day and longest night in the northern hemisphere.
winter solstice–
the spaces between
the stars and me
Susan Antolin selected this line by first year medical student Honomi Morimoto as the first prize winner in a haiku competition held at Kagawa University: the midnight city starry sky fell to the ground . Willey judged this line from sophomore Ai Tada to deserve honorable mention in the annual competition: winter skies very cold and dry like your heart.
Horst Ludwig anxiously awaits the heavenly opportunities to observe what is going on in the universe, noting that he is "a piece of… a light far out there". The seasoned writer ended his haiku with an act of author – by not ending with an ellipse, he retained the right of his creator to the interpretation of this haiku, of his life.
When I get up from my bed
see the moon through the window
no eclipse … no more
Iliyana Stoyanova pruned her ornamental miniature potted tree in the deep autumn glow of a miniature moon above St. Albans, UK. Natalia Kuznetsova's sensitive cords were pulled as she watched her love drift away from Moscow, Russia. A small globe caught the eye of Roberta Beach Jacobson in Indianola, Iowa. Rp Verlaine has been window shopping in New York, New York. Germina Melius was the last to leave the hall in Castries, Saint Lucia.
full moon
bonsai leaves
shine in the night
* * *
the further you go
the more I want you …
waning moon
* * *
be mistaken
60 watt light bulb for the moon
a fly
* * *
the moon
in every store window
closed for good
* * *
Red Moon
God is extinguished
the light
Helga Stania celebrated an auspicious 50th anniversary, which took place when the moon came as close to Earth as possible. In Hildesheim, Germany, Beate Conrad recorded a haiku in her diary about a spectacular full moon eclipse.
Golden wedding
on the horizon
the perigee moon
* * *
May 26
stand out from my sunlight
the only wish of the moon
Bob Friedland said his toddler mistook the circular sun for a full round moon above his head in Richmond, British Columbia; Mary L. Leopkey saw red all over Gillies Bay.
Pointing, there are moons,
to a silhouetted sun,
my son said: "Dere moon"
* * *
penetrating light
my skin and my poppy petals
may blood moon
Pitt Buerken sensed a dead end in Munster, Germany. Orihara has likened the Earth figuratively to a protective matchmaker for the moon – an exposed bride-to-be and the sun – a curious groom. Vandana Parashar might need some protection in Panchkula, India,
the moon is shining
once again the earth stands
to him in the sun
* * *
Earth
as an intermediary
moon and sun
* * *
storm that is brewing …
mom say my dress
is too revealing
Anne-Marie McHarg admired a very smooth and brilliant moon emerging from a pond on the London skyline. In Raleigh, North Carolina, Charlie Smith placed a romantic flower in his wife's shimmering hair. The fragrant trumpet-shaped flower stays open until sunrise.
The moon over glassy water
she licks herself
For a night
* * *
first moon flower
adorns long black hair
at the Moonlight
Evetts assimilated a fraction. Samo Kreutz measured the diameter.
moon / water
distance to woman
* * *
in a puddle
between him and her
all the moon
Roberta Beach Jacobson is hopeful that all the negativity she's had to deal with in Indianola, Iowa, will produce a positive force.
winter morning
all double negatives
to arrive
Patrick Sweeney strolled around a jellyfish as he strolled on Misawa Beach in Aomori Prefecture. After enjoying a day on one of Italy's most beautiful beaches, Isabella Kramer hopes to return a forgotten toy before tomorrow.
circumambulation
a washed moon jelly
who do I tell
* * *
World children's day
on the Spiaggia dei Conigli
a lonely teddy bear
Stania hasn't leveraged that fine line: questions about the moonlit path that we haven't asked.
Rosa Maria di Salvatore was reluctant to share a secret in Catania, Italy. Murasaki Sagano felt completely wrapped up in Tokyo. Fukuzawa looked over his shoulder. Kuznetsova hoped to be free soon.
hidden moon …
these words
i never said
* * *
The moon…
an old clock ticking
to the rhythm of my thoughts
* * *
strangers follow me
get off at the bus stop –
stop for the full moon
* * *
another confinement …
through my screened window
winter moonlight
At home, enjoying a beaver full moon over Camden, Maine, Kristen Lindquist recalled how beavers build with twigs and mud all night in the moonlight before to crowd into their winter hut.
beaver moon
all the party guests
in the kitchen
Alan Summers shuddered at the call of an iconic wild animal that can "scare the moon!" John R. Parsons heard of the foxes from Northampton, England. Two weeks after last month's beaver full moon, Zdenka Mlinar has finally caught up with her sleep in Zagreb, Croatia.
timber wolf –
the cold moon
accordions
* * *
cemetery on the hill
a distant fox screams
through the evening snow
* * *
new Moon
wolves sleep
On a freezing cold night in Calgary, Alberta, Meghan Elizabeth Jones relished Canada's year-end tradition of eating imported fruit. Sweeney sensed the presence of a ghost.
peeled finger
sweet pie juice burst
Christmas mandarins
* * *
playing with loose skin
on his elbow
ghost of his dead son
Ludwig reflected on how emphasizing man's direct connection to the grace of God undermines the interdependence of all human beings. After offering prayers on the Day of the Dead for the many souls of those who have died this year, Wieslaw Karlinski now looks forward to celebrating the birth of Christ in Namyslow, Poland.
All Saints' Day
sparkle dignity
candles on earth
* * *
All Saints' Day
in the store almost ready
Santa
Chen Xiaoou lit a candle on a pine tree in Kunming, China. Giuliana Ravaglia decorated a Christmas tree in Bologna, Italy. Sharon de la Rama explained how bark beetles infested spruce trees in the Czech Republic.
Christmas tree
lit with small candles
small living flames
* * *
grandmother's house …
on the Christmas tree
mandarins
* * *
Sunny fall hike
Thirsty, waiting for the rain
Spruce with brown needles
Verlaine peered into a Christmas window. Bona M. Santos was faced with a puzzling decision in Los Angeles. There is still a lot of work to be done to protect the planet, suggested John Hawkhead in Bradford on Avon, England. Maya Daneva decided what to buy in the Netherlands.
the noose
on my last good gold watch
in the window of the pawnshop
* * *
go to a meeting
to reduce the carbon footprint –
a riddle
* * *
COP26
still so much to do
with hot air
* * *
this electric car …
guest on earth
I want to be
Singaporean poet Elancharan Gunasekaran suggested other guests: uninvited at COP26 mother nature and god.
If enough people want something to happen, it will, noted Toronto poet Marshall Hryciuk, who improvised a chorus of John Lennon's "Happy Xmas (War is Over)" to create this line: Oil is over. if we want to.
————————————————– ———————-
Readers are invited to enter up to a dozen poems for the 11th Matsuyama International Photo-Haiku Competition supported by The Asahi Shimbun, at this online site: http://www.matsuyamahaiku.jp/contest/theme_eng/entry/.
The next issue of the Asahi Haikuist Network appears on December 31. Readers are encouraged to send New Year's haikus on a postcard to David McMurray at Kagoshima International University, Sakanoue 8-34-1, Kagoshima, 891-0197, Japan, or by email at mcmurray @ fka.att.ne.jp.
* * *
David McMurray has been writing the Asahi Haikuist Network column since April 1995, first for the Asahi Evening News. He is a member of the editorial board of the Red Moon Anthology of English-Language Haiku, a columnist for the Haiku International Association, and is editor-in-chief of Teaching Assistance, a column featuring graduate students of The Language Teacher of the Japan Association. for Language Teaching (JALT).
McMurray is Professor of Intercultural Studies at Kagoshima International University where he teaches international haiku. At the Graduate School, he supervises students doing research on haiku. He is Haiku Correspondent School Teacher in English for the Asahi Cultural Center in Tokyo.
McMurray judges haiku competitions organized by Ito En Oi Ocha, Asahi Cultural Center, Matsuyama City, Polish Haiku Association, Ministry of Foreign Affairs, Seinan Jo Gakuin University and Only One Tree.
McMurray's award-winning books include: "Only One Tree Haiku, Music & Metaphor" (2015); "Essays and Poems Collected by the Canada Project" Vols. 1-8 (2013); and "Haiku in English as a Japanese Language" (2003).