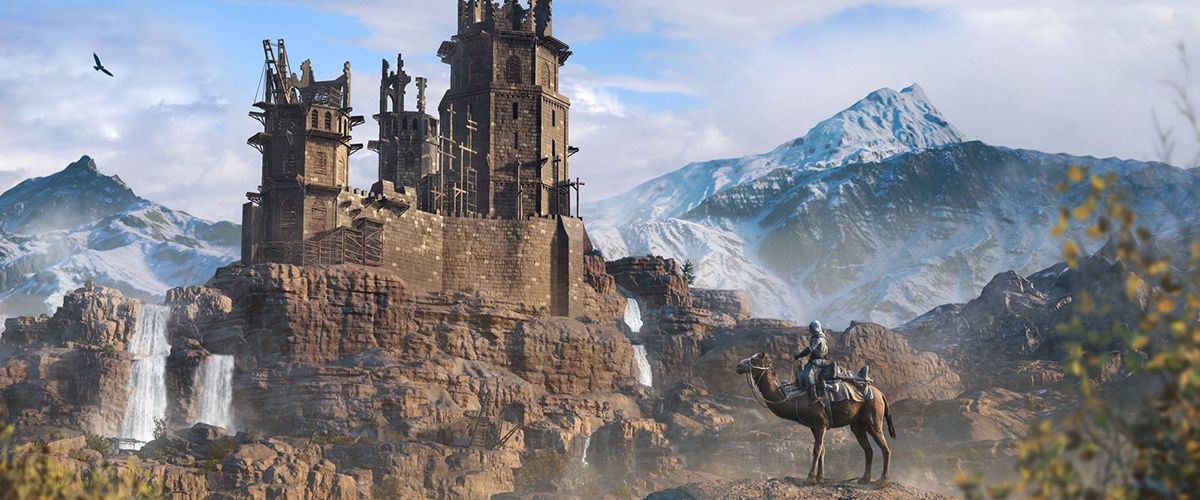 'Assassin's Creed' Heads to Baghdad, Japan and China as It Celebrates Franchise's 15th Anniversary
With the last Ubisoft before presentation allowing gamers to get a clearer idea of ​​what's to come from the major publisher, the spotlight never strays too far from one of its biggest franchises, that of Assassin's Creed. With 2022 being the 15th year since the war between the Assassins and the Templars broke out, naturally, big things are in the works, and that includes the recently revealed plans of Assassin's Creed Mirage, Codename Red, Codename Jadeand Hex code name.
Assassin's Creed Mirage
The next main chapter of the franchise comes in the form of Assassin's Creed Miragewhich will take players to the colorful city of Baghdad in the 9th century, as we join Basim Ibn Is'haq, the same of Valhalla, on his journey to becoming a master assassin. With the help of his mentor, Roshan (voiced by Shohreh Aghdashloo), the adventure will arrive in 2023.
Advertising ▼
Longtime fans will be happy to hear that Assassin's Creed Mirage promises a kind of throwback experience, emphasizing story-driven gameplay instead of some kind of open world, much like previous titles in the franchise. The use of Baghdad in the Middle East echoes the series' origins, as do the main gameplay pillars of stealth, parkour, and assassination.
Identifying your target, stalking it, and vanishing without a trace is a gameplay loop that many have missed, and the detection system is reworked and improved; players can expect more challenges and more help in terms of tools like the blowpipe or the mine. Parkour will feel faster and smoother, while the new pole vault will make it easier to get over big gaps.
Assassinations will come in the form of what Ubisoft has called black box missions, where your approach and methodology is entirely up to you. Most of the assassination animations are also brand new and, with new Assassin tools and interactions, will make every kill thrilling.
Assassin's Creed Mirage takes place in 861, a few decades before Valhalla; players will enter a bustling Baghdad where its population reacts to your every move, with four unique neighborhoods offering a variety of opportunities. A well-designed experience will likely mean fewer bloated side quests, more important characters both historical and fictional, and the introduction of the Alamut, the legendary home of the Assassins and stronghold of the Hidden Ones.
As for Basim, he is touted as one of the most resourceful and agile Assassins around, his ability to focus allowing for multiple stealth kills at once. Assassin's Creed Mirage. The faithful eagle known as Enkidu will serve as his eyes in the sky, perfect for spotting the best approaches for a stealthy kill. However, there's also more danger in the form of special archers that can counter the eagle, so you've been warned.
Discover our interview with the creative director, Stéphane Boudon, and learn more about Assassin's Creed Mirage.
Codename Assassin's Creed Red, Hex code name, Codename Jade
Doubling down on Ubisoft's passion for history and the rich playground it can offer, the company also revealed that it has three more Assassin's Creed games in the works, including one that many fans are clamoring for.
Codename Red
The confirmation of a brand new Assassin's Creed game set in feudal Japan will be a dream come true for many fans, and Codename Red It's exactly that. The next premium flagship title next Mirage and the future of the franchise, this is developed by Ubisoft Quebec, the people behind the excellent Odyssey.
A powerful shinobi fantasy awaits, but without further details, chances are we'll see Codename Assassin's Creed Red in 2024 or beyond.
Hex code name
Positioned as another type of Assassin's Creed Game, Hex code name is developed by the Montreal team and will follow after Codename Redand although the only images we've seen have revealed very little, the use of runes and signs suggests a magical slant to things.
It would certainly be a departure from what we've come to expect from the franchise, and it's exciting in concept to say the least.
Codename Jade
The very first open-world AAA Assassin's Creed mobile game, Codename Jade will feature all of the iconic gameplay optimized for touch controls, transporting players to ancient China where they have the freedom to create their own assassin.
If you ever wanted to do parkour on top of the Great Wall of China, this will be your best chance.
Assassin's Creed Valhalla
After two years of extended support for the game, the end is in sight for Assassin's Creed Valhalla. Probably one of the last content additions for Year 2, The last chapter will be a free-to-play quest arc that will tie more storylines into the main game coming in a few months.
Eivor will reunite with key characters throughout his reign, likely get in more fights, and hopefully end things on a high as we look forward Assassin's Creed Mirage.
Code name Infinity
Besides the four games shared by Ubisoft, we also received an update on Assassin's Creed Infinity, which turned out to be a live service, but not really a game per se. Instead, it will serve as a single entry point for fans to enjoy all the content, functioning as a hub that brings all the different experiences together in one convenient place.
The team also hinted at potential standalone multiplayer experiences via Infiniteand if they can pull it off for both single and multiplayer play, that will be groundbreaking.
More birthday celebrations
In addition to all the goodness of the game, Ubisoft is upping the ante for celebrations in many other ways.
A new Netflix show is being co-developed with showrunner Jeb Stuart paving the way for a live-action adaptation. Additionally, Ubisoft will also create a new mobile game for the streaming giant.
There will also be a live concert in the form of Assassin's Creed Symphonic Adventure, a 15th Anniversary Artbook, a new Amunet figurine, a new podcast retracing the progress of the series in Echoes of Historythe new book The mage's plota webtoon sequel for Assassin's Creed IV: Black Flagand the final Assassin's Creed 15th anniversary documentary, Beyond the Creedwhich will debut on Ubisoft's YouTube channel after Ubisoft Forward.
---
Needless to say, fans of Assassin's Creed franchise have much to be excited about, the next Mirage into the future with Codename Red, Hexand Jadebringing a host of new playgrounds to Baghdad, Japan, China, and more.
Attracting fans old and new, Ubisoft is certainly banking on this pillar, and we can't wait to see what comes next, especially following the investment made by Tencent to help the company remain independent.
Jake is a full-time trophy hunter and collector of console achievements, and part-time victim of the Steam Sale. He has a thing for Batman and impressive statues, and lacks space for both. Send help.
---
Drop a Facebook comment below!
---