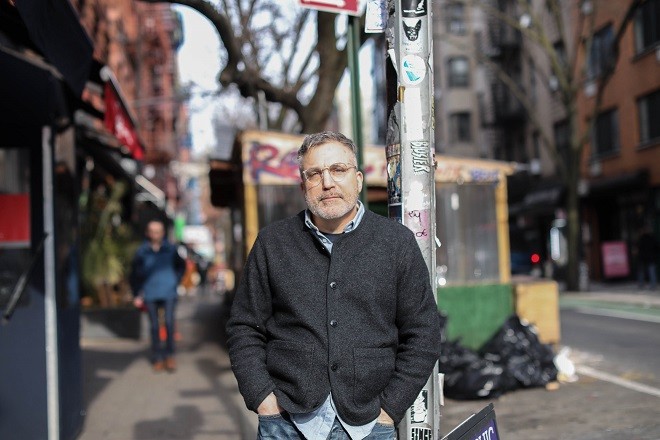 Ramen master Ivan Orkin never lost his appetite for Japan
In the early 2010s, American chef Ivan Orkin closed his two ramen shops in Tokyo and left Japan.
He moved to a house in Westchester in upstate New York, an hour's drive from his childhood home on Long Island, opening a now-closed Ivan Ramen outpost in a market from downtown Manhattan. Later, he opened a shop on the Lower East Side, where he still toils today.
And every day, Orkin – who is 58 and wears chic wire-rimmed glasses under his short, black hair, graying at the sides – studies Japanese. In November, he began the practice, the first time since college, reflecting his devotion, if not an outright obsession, for Japan.
"I'm not done with Japan," he said recently, his voice firm and enthusiastic. "I read and I study. I'm so into it. He then added, "I can't wait to get back to Tokyo."
In 2007, when Orkin was "a bit aimless" and not yet the crass disciple of the ramen world he is today, he opened Ivan Ramen on a sleepy "shotengai" shopping street near the Keio line. in the Setagaya district of Tokyo.
Although most ramen shops in Tokyo bought their noodles pre-made, he made them by hand. He spent hours experimenting in a noodle room filled with a table and bins of flour, the tune often punctuated by the music of The Grateful Dead and the smell of freshly brewed coffee.
As one of the first foreigners, if not the first, to open a ramen shop in Tokyo, he quickly became known for his thin but firm noodles and light broth, as well as his New York persona.
"I'm a New Yorker and I'm pretty brash," he said. "Even though I'm very polite in my Japanese, if someone pissed me off, I would say, 'You piss me off.'"
Speaking with Orkin, his sentences filled with vivid imagery and expletives, his accent unmistakably formed in New York, he explains that he is a Japanophile before a ramen geek. Japan has been his passion since he was very young: at 15, he worked in a sushi restaurant; in college he studied Japanese, teaching English in Japan shortly after graduation; Orkin raised her children bilingual and bicultural, between Tokyo and New York.
It is therefore not surprising that he calls Ivan Ramen an "anthropological exploration". It was an excuse to live and work in Tokyo, speak Japanese all day and, as he put it, "use everything I learned about the culture to try to open a successful business."
And he made a confession: "None of this really had anything to do with ramen. Ramen was the vehicle for exploring things about Japan that I really love.
Upon returning to the United States in the early 2010s and opening Ivan Ramen's New York outposts, he set out to share his passion for Japan. And the vehicle? A bowl of noodles and broth, covered in flavors. And, in his own way, he became one of the preeminent, albeit unlikely, ambassadors of Japanese cuisine and culture in the United States.
Orkin estimates that thousands of people have visited Japan after eating his ramen in New York; countless others were influenced by watching Netflix's "Chef's Table" episode dedicated to his life.
"A lot of people are really inspired, and they want to go to Japan so badly, and they want to learn more about Japan and want to eat more ramen," Orkin said.
But he is not pretentious about his knowledge or his experiences, aware that he is a foreigner sharing a culture which is not his own but which he has come to know and adore.
As he said with a slight silence, a humble inflection in his voice, "I didn't come back and said I'm Ivan and… I'm going to show New York what good ramen is. ."
Instead, he decided to create accessible foods, prepared the way he liked it: ramen slathered in chicken fat and garlic; noodles with a bite; reimagined small Japanese dishes like fried tofu topped with miso mushroom chili and mustard (what he calls Coney Island Tofu).
And for the sleek yet welcoming space on the Lower East Side, Ivan Ramen's flagship spot, he drew inspiration from the city's restaurants — welcoming 24-hour joints that whip up omelets and burgers. The stools are bolted to the floor. The walls are plastered with art; a kitsch cartoon of characters sipping ramen hangs behind the bar. The space and the food are distinctly his.
In recent years, he has expanded his business across the United States, selling boxes of ramen ingredients on the online food market Goldbelly; a franchise model is also in preparation. It temporarily opened shadow kitchens in Nebraska and Texas in 2021.
It all comes down to his love of Japan. And Orkin is shameless. He proudly and forcefully tells me that his experiences throwing ramen at the little shotengai in Tokyo can never be taken away.
"I did what I did. You can't love me. You can be jealous of me. You can think I'm a poser," he said. "But, you know, I can prove that I had a ramen shop in Tokyo. And that it was successful. »
***
Spencer Cohen is a reporter in the New York bureau of the Asahi Shimbun.