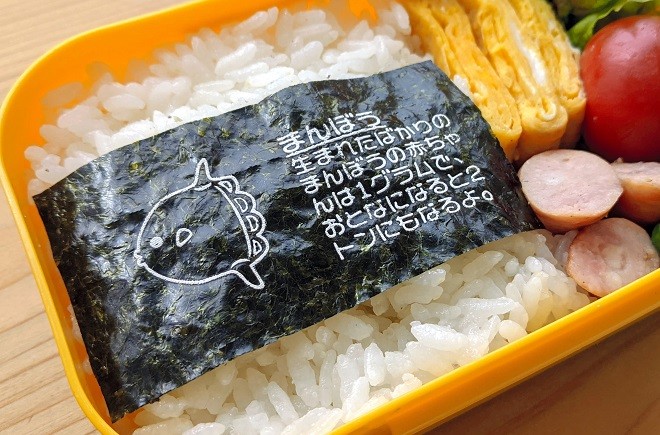 Sheets of 'nori' quill fish from the shop a popular vendor in the Tohoku region
KESENNUMA, Miyagi Prefecture–A centuries-old shop here imparts knowledge to customers in a bid to reverse the dwindling production and demand of 'nori' seaweed.
Using calcium, Yokotaya Honten imprinted information on the fish and shellfish caught in this seaside town on sheets of nori.
The product, called Osakana Zukan Nori (Nori Fish Picture Book), was a hit. Customers say it's a good gift choice for families with children.
Each sheet features an illustration and the ecology of fish and crustacean species, including blue shark, bonito, swordfish, sunfish, oyster and sea squirt.
Although nori is an important ingredient in Japanese food culture, it has been served on fewer occasions in homes as its production has declined due to global warming.
Yokotaya Honten, founded over 300 years ago and now run by Giichi Igari, began selling Osakana Zukan Nori in April to remedy the situation. He received help from the Kesennuma Business Support Center, which provides free advice to small and medium-sized businesses.
The first batch of 200 sets sold out in just three days.
After the company was inundated with orders, it ramped up production to supply 1,000 sets to roadside rest stops in Miyagi and Iwate prefectures, stores at Sendai Airport and elsewhere.
Each pack contains 14 sheets of seven varieties and is priced at 389 yen ($3), including tax.
For any enquiries, visit the official website at (https://www.yokotayahonten.com/).