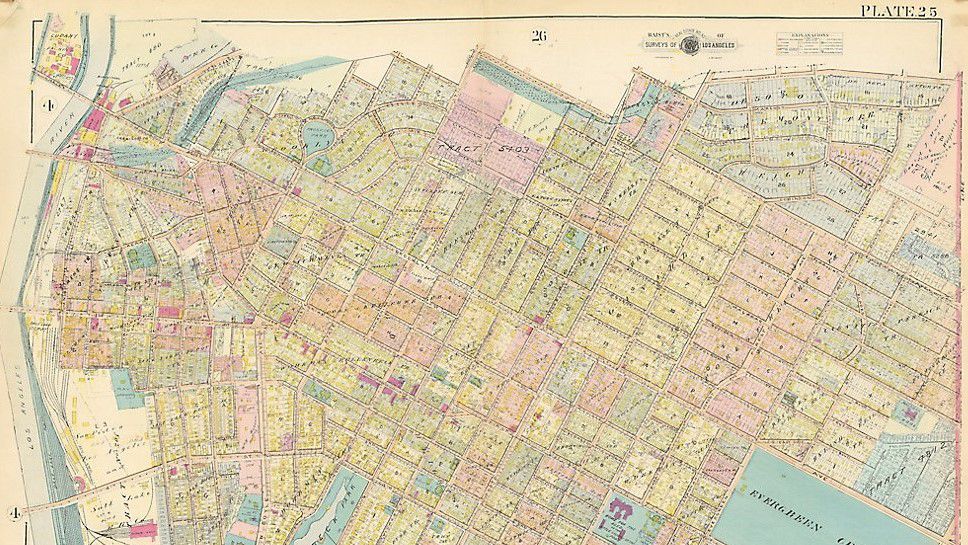 The exhibit explores the Jewish and ethnic histories of Boyle Heights
The history of Boyle Heights is wild and varied, multi-layered and multifaceted. Although now known largely for its large Chicano population, the neighborhood has long been an enclave for immigrants and minority groups – including, for much of its history, the Jewish population of Los Angeles.
In May, the Leve Center for Jewish Studies at UCLA launched an exhibition exploring "Jewish histories in the multiethnic of Boyle Heights" – curated by historian Caroline Luce, associate director of the Alan D. Leve Center for Jewish Studies from UCLA. The exhibit is part of the Mapping Jewish LA Project, a partnership between The Leve Center, UCLA Libraries and Special Collections, the University of Southern California, and the city's Community Archives.
Physically, the exhibit is housed at Boyle Heights History Studios on First and South St. Louis streets, a few blocks from Mariachi Plaza. But dense and expansive digital exposure lives on online, as an effort to "remix" physical exposure, to explore it in different ways, Luce said.
"Unlike a [physical] space, where you put things side by side, you have to rethink how to navigate through the material, "Luce said. The digital exhibit presents the story in a variety of ways, including an introductory essay that provides a comprehensive history of Boyle Heights and a multi-layered map that allows viewers to explore the neighborhood space.
The idea, said Luce, is to emphasize that many of these structures exist, reoriented, and serve the community in other ways.
"The hope is that perhaps by reminding people of these interconnections of these institutions, we could facilitate some kind of solidarity and coalition building," Luce said.
Almost all of Boyle Heights' historic sites have more than one layer of cultural history, said Shmuel Gonzales, founder of Boyle Heights History Studios. The Paramount Ballroom, for example, was once the hall of the Union of Jewish Bakers. Over the years it has evolved as an organizing space for workers and immigrant rights activists, long before it became a concert hall and the seat of the neighborhood art conservatory.
"I think we take it for granted that this area of ​​Boyle Heights and South LA, during the Jim Crow era, had this incredible diversity that occurred in these communities," Gonzales said.
The story of Boyle Heights is one of community strength: the collective action of people – Chicanos, Japanese immigrants, Ashkenazim and Sephardic Jews – who found their way to the East LA neighborhood and found common goals. It's a story of how communities are cultivated and how people find their place among people who are not always like them.
"Not only Mexicans Americans – although we are proud of our Chicano history – but I think it is profound that we are able to tell not only our immigrant story, but also our maturity in terms of organizing rights. politicians and civilians that really gets done in Boyle Heights, "Gonzales said.
Key to this exhibit was collecting stories from across the community – the kind of stories that lived hidden in basements and in people's memories.
"I hope that as people work on the exhibit, they will see or be impressed by the many community leaders in their neighborhood – and outside – who were pursuing similar goals," said Luce.
The digital exhibit "Jewish Histories in Multiethnic Boyle Heights" can be found here. The physical exhibit can be viewed at Boyle Heights History Studios, 2026 E. 1st Street, Los Angeles, which is open Tuesday through Sunday.