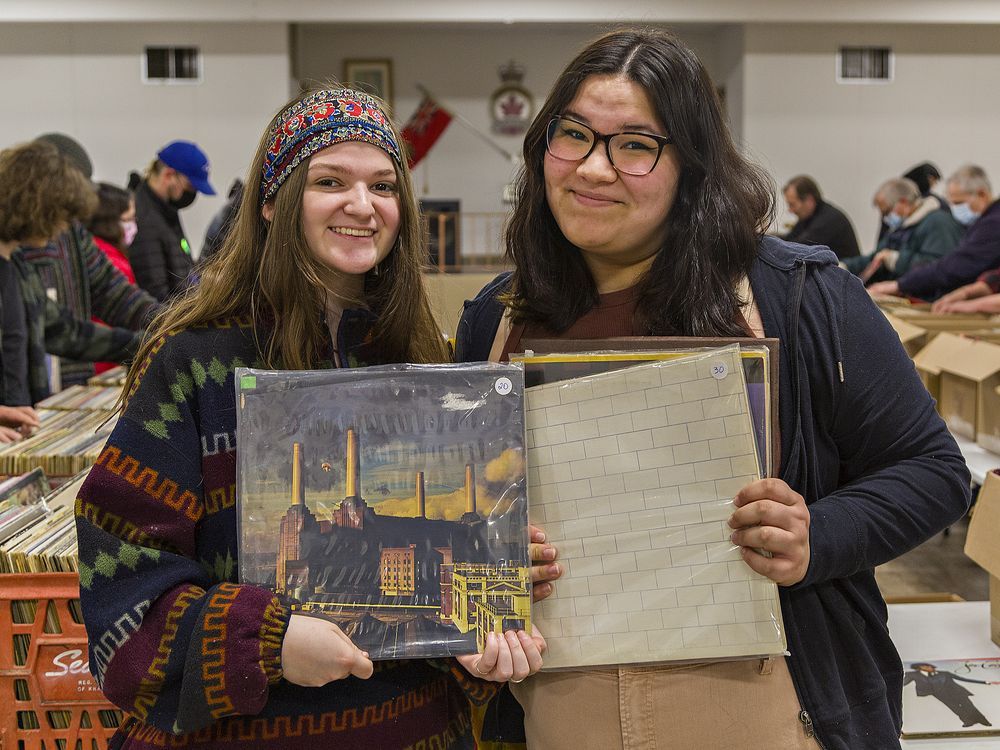 The vinyl record fair attracts collectors of all ages
Content of the article
Few people left the Dunsdon Legion on Tollgate Road empty-handed on Sunday.
Content of the article
While most of those present at the first Brantford Record Show were old enough to have bought new musical releases on vinyl decades ago, the show also attracted several young people.
Emily Rushton, 17, from Brantford, and her friend, 16, Cassidy Sinclair, from Paris, leafed through cases of vinyl records, looking to add to their collections.
"My dad was a big record junkie," Rushton said. "He had a full room but got rid of them all before he realized I would become obsessed with them. When I met Cassidy, we both clicked and started collecting.
Among Ruston's purchases were The Beatles – Magical Mystery Tour, The Jesus Christ Superstar Soundtrack, and Pink Floyd – The Wall.
"I love the 70s and 60s," she explained. "When you listen to music on vinyl, it kind of takes you back to that time. We never got to experience that, so it's like that nostalgic feeling. It's super cool."
Sinclair grabbed Pink Floyd's Animals, which she said she found at a very good price.
"It's so good to listen to it cover to cover," she said. "You can discover the entire album."
Andrew Wilson, 15, from Brantford, bought Led Zeppelin 1 on vinyl and a CD version of Siamese Dream by the Smashing Pumpkins.
"I wanted to look for records because I'm trying to start a collection," he said. "I like having the physical copy and owning it instead of having to go to your phone to listen to it."
Among the 13 vendors at the show was Mick Gillings of Brantford, who stocked specialist Japanese and European imports of vinyl records, picture discs and a plethora of KISS products.
Content of the article
"There's definitely a market here for specialists," he said. "They came with better sound quality with Japanese pressings and would include lyric sheets that you wouldn't normally get with domestic pressings."
An example of Gillings' rare offerings included an original 45 rpm red vinyl of The Beatles' single Hard Day's Night, priced at $55.
"They are very hard to find," he noted.
Show organizer Paul Partington said he expected viewership to reach 400 by the end of the day. The $2 admission fee was donated to the Legion.
"We've done it before in Sarnia and Strathroy and we've had success in those communities," he says. "I knew Brantford didn't have a big avenue for used records, so I thought the folks in Brantford would be interested.
Partington grew up in the 1990s buying CDs, but has transitioned to records over the past 15 years.
"I like how tangible they look," he said. "When you buy digital copies online, you don't get the artwork and you can't keep it."
He said that although many people prefer analog sound to digital recordings, he is more of a collector than anything else.
"If I'm buying a record for $300 instead of buying it online for $10 digitally, there has to be more to it than the sound quality for me."
As a seller, he sells vinyl ranging from $5 to $1,000.
One of the most valuable records he was selling on Sunday was an album by Warpig, a 1970s band from Woodstock, Ontario, with an asking price of $800.
"They didn't sell a ton of records but their music was really good," he noted. "Popularity and need, as opposed to the number of people available, drives up the price of something like this."
With the success of Sunday's event, Partington said he's confident he'll put on another record-breaking show in Brantford this fall.